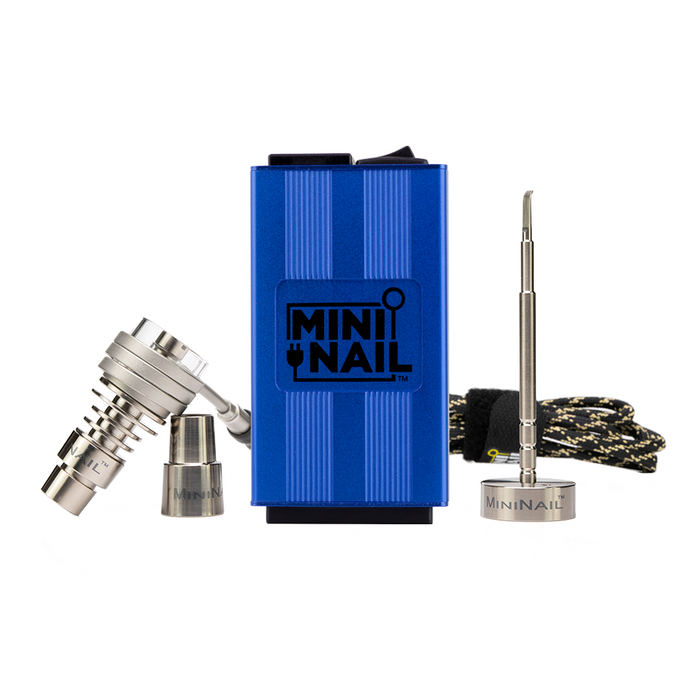 Mini Nail Hybrid Complete Kit - Blue
by Mini Nail
The Tried And True Enail With A New Twist
Get full flavor and effect with the MiniNail Quartz Hybrid Enail. The most popular E-nail kit type. It is universal in design (with male and female joint adapters), this enail kit will work with virtually any rig you have. It is also modular in that you can remove the quartz or titanium dishes and replace whenever you choose. The titanium body is not only extremely durable, but allows amazing temperature stabilization when consuming concentrates, allowing you to get the perfect hit every time.
Now with the new Cyclone Spin feature, all carb caps for this enail make a vortex inside the dishes. This makes the concentrate move and spin more effectively giving you even better function with every use. 
Featuring the new Hybrid Heater Coil that wraps around both the bottom and sidewalls of our quartz Hybrid Nail for increased effectiveness and efficiency especially at low temperatures. The increased surface area of the the DeepDish Quartz helps thin the concentrate out so you get better flavor and effect. The Hybrid Coil is also versatile, as it can also be used with our 25mm Quartz E-banger accessory. The Quartz Hybrid Titanium Nail is the best of both worlds as it provides amazing flavor from the quartz dishes and outstanding heat retention from the titanium. The MiniNail Quartz Hybrid Universal Nail can fit 10mm-18mm male joints sizes and 14mm-18mm female joint sizes so it will work with virtually any rig.
MiniNail™ Micro Enail is extremely small and is slightly larger than a business card; weighing in at only 5 ounces. It is also a lower power Enail that runs on only 1amp / 89 watts of power. It is built to be a daily driver and is designed to be used all day everyday. 
This MiniNail eNail Kit comes with the following
CONTROLLER BOX

HYBRID HEATER COIL

TITANIUM QUARTZ HYBRID NAIL

x2 QUARTZ DISH TOPS

DABBER / CARB CAP

POWER CORD

SLAB PAD

STICKERS
Features:
Accurate and Precise Temperatures
Temperature Range from 0-1000ºF
Fast heat up time
Extremely small and lightweight
Low Power Use (Only 1 amp)
Internal Fuse for safety
Can be hooked up to smart devices (Amazon Alexa) with a smart plug
Compatible with almost any glass rig

Can be used with a portable battery pack
Made in Seattle, Washington USA
2 Year Warranty