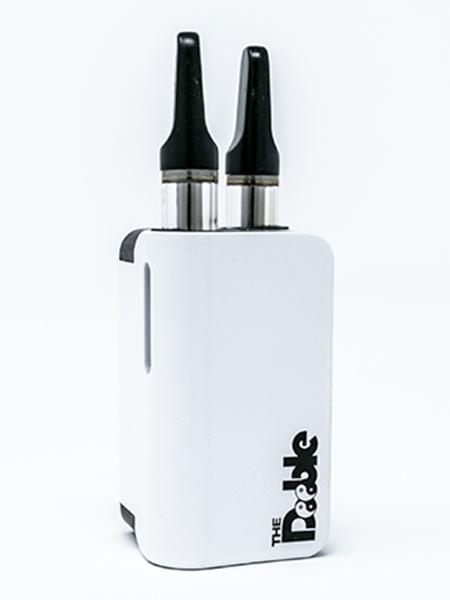 Dank Fung THE DOOBLE Cartridge Vaporizer
by Dank Fung Extracts
Introducing the latest and groundbreaking innovation from Dank Fung; creators of award-winning vapes for connoisseurs.
The DOOBLE is the world's first draw-activated double cart vape battery!
The DOOBLE's Patents Pending innovation will enable the connoisseurs to benefit from a newly gained "mixing and matching" capability. Finally with The DOOBLE; you can imagine any creative pairing that you can come up with (for example: Indica/Sativa) by coming up with strain combinations that don't naturally exist in flower strain form. 
Beyond the notion that 2x vape cartridges is more volume of vape than 1x vape cartridge use; with The DOOBLE - doubling up the amount of vapor when you draw can improve the cartridge experience.
It's easy to change out the cartridges since they use magnetic thread adapters you can simply tug and remove the cartridges and drop a new one in.
The Dooble comes with (4x) 510 thread magnetic adapters so you can mix and match between 4 different strain combinations- all according to your liking.
The Low Down
Two conjoined independently operating batteries allows for single or double barrel use
Magnetic adapter will work with all 510 thread tanks
Wide opening fits majority of 510 thread pre-filled tanks 
Quick-Charge Battery Specs: 3.7 volts output - 350 mAh capacity each side
THE DOOBLE Includes:
1x The Double Dual Tank Battery

1x Dual USB Port Wall Charger

2x USB Micro Charging Cables

4x Magnetic 510 Thread Adapter
Note: NO Cartridge Tanks Included 
DANK Tips
Screw on magnetic 510 thread adapters onto standard 510 thread cartridge tanks and place them into The DOOBLE battery ports.

Inhale naturally to vape, your draw activates the battery