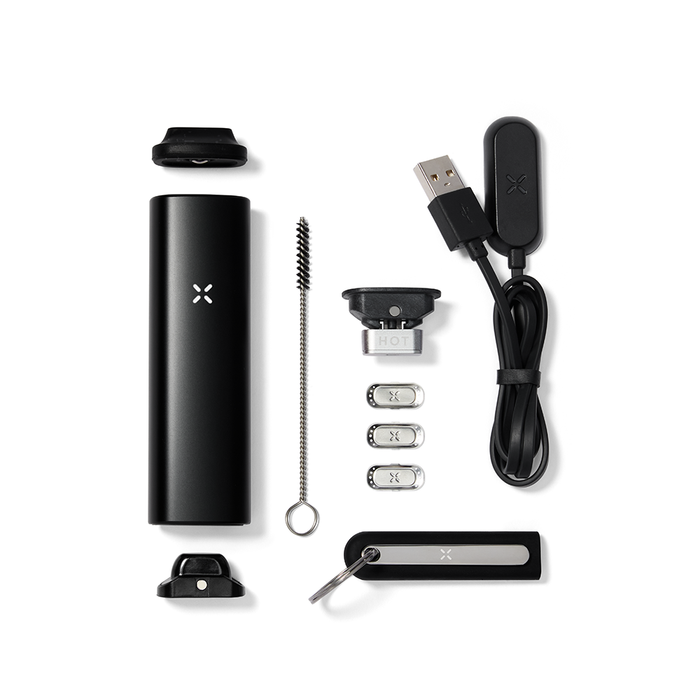 Who is the PAX Plus for?

The PAX Plus dry herb vaporizer is the perfect vaporizer for those that want a no-fuss, easy-to-use vaporizer that's effective, highly portable, and packed with features that don't require a smartphone app. Turn it on and set your session with a single button, enjoy unique modes like Stealth and Boost, and blow clouds for over two hours with the revamped PAX Plus.
Smooth, tasty vapor
Enjoy dense, flavorful vapor with the PAX Plus and its four preset experience modes. Each setting is fine-tuned to cater to multiple vaping styles, from flavor chasers to cloud hunters and everything in between.
Two hour runtime

The PAX Plus comes with up to two hours of session time and charges via a magnetic USB charging dock.
Pocket-sized
The PAX Plus was made for travel with a small, compact design that you can conceal in the palm of your hand and slip inside any small bag, purse, or pocket.
Multiple vaping modes
The PAX Plus comes with four unique vaping modes - No smartphone app required.
Stealth
Dims the LED light petals and cools much faster to reduce unwanted odors.
Efficiency
Starts your session at a lower temperature and gradually rises until it reaches the max temperature.
Flavor
Cools down in between hits to preserve flavor and only heats up when it touches your lips.
Boost
Boosts the temperature more aggressively with a slower cool-down to maximize cloud production. Ideal for concentrates as well.
Simple controls
Everything from its temperature settings to its unique vaping modes is just a few clicks away. Pack the oven, turn it on, and vape with a single button. Then, use its four LED light petals to check the battery level, current temperature, and whether it's cooling down or heating up.
Vape dry herbs & concentrates
Switch from dry herbs to dry concentrate instantly with the included concentrate insert. Usually, dual-use vaporizers only do one well, either dry herb or dry extracts, but the PAX Plus performs well with both.
A complete package
The PAX Plus vaporizer includes everything you need to create your perfect session plus a few cleaning and maintenance supplies.
It comes with: Flat & Raised Mouthpieces, Standard & Half-Pack Oven Lids, Concentrate Insert, Multi-Tool, and a Maintenance Kit.
Choose your color
Choose from four unique and understated finishes to suit your style: Onyx, Sage, Periwinkle, and Elderberry.
Easier to clean
Clean and maintain the oven with ease thanks to its redesigned oven screen and multi-tool. Each screen comes with a new 3D design that's easier to remove and replace when it's time to freshen up.