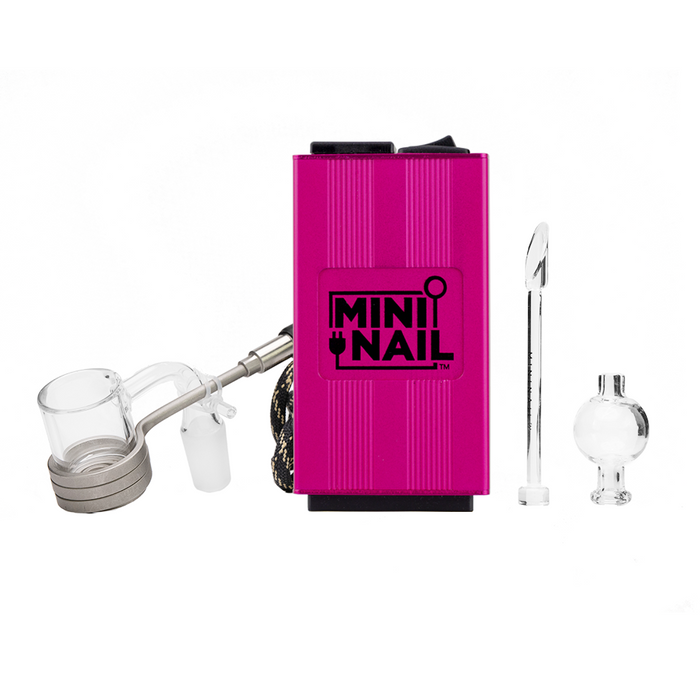 Mini Nail eBanger Complete Kit - Pink
by Mini Nail
MiniNail Quartz eBanger E-Nail Kit
Perfect temp to get the perfect hit every time. This all quartz Enail kit is designed to give you the same replicable experience every time you use it, allowing you to have a true concentrate connoisseur experience. This quartz banger setup maximizes the flavor production at lower temperatures giving you much better flavor and effect. Easy to clean, operate and maintain. 

25MM Ebanger: The high quality quartz banger is designed specifically for the MiniNail E-Nail with perfect tolerances for an amazing fit and finish. These quartz bangers have many features to improve function. All MiniNail quartz bangers have chamfered edges for better use with various bubble caps. All have thick walls and a 5mm thick base for better heat retention and overall function at low temperatures. Includes a quartz arm to help rest the heater coil for stability and safety. Also includes a silicon band to further hold the coil in place as a secondary feature. These additions and improvements make this the best enail set for fans of pure quartz dabs.
The Hybrid Heater coil design of this kit maximizes effectiveness by providing heat from both the bottom and sidewalls of the quartz ebanger. This gives you much better function that is unparalleled with other enails. 
MiniNail™ Micro Enail controller box itself is extremely small; weighing only 5 ounces. It is also a lower power Enail that runs on only 1amp/89watts of power, meaning it will be cheaper to run and will last longer than other enail. It is built to be a daily driver and is designed to be used all day everyday. Custom designed MiniNail™️ 25mm Quartz eBanger provides amazing heat retention and function with its 5mm thick quartz base and thick quartz walls. With the Hybrid heater coil you get heat retention from the bottom and sidewalls giving increased functionality at lower temperatures. The best banger kit for an enail.
Features:
Accurate and Precise Temperatures
Temperature Range from 0-1000ºF
Fast heat up time
Extremely small and lightweight
Low Power Use (Only 1 amp)
Internal Fuse for safety
Can be hooked up to smart devices (Amazon Alexa) with a smart plug
Compatible with almost any glass rig

Can be used with a portable battery pack
Made in Seattle, Washington USA
2 Year Warranty
WHATS INSIDE:
MININAIL CONTROLLER BOX

HYBRID HEATER COIL

14MM QUARTZ EBANGER

DABBER / CARB CAP

POWER CORD

SMALL SLAB PAD

STICKERS

2-YEAR WARRANTY