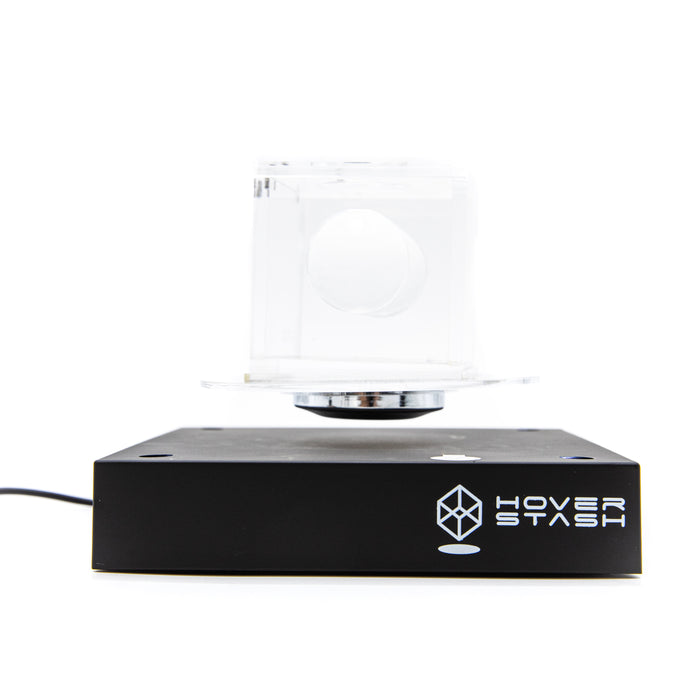 HoverStash – Levitating Dispensary Display Case
by HoverStash
When Putting Your Stash on a Pedestal Just Isn't Good Enough...
What's even better than putting your stash on a pedestal? Putting it in the HoverStash! Now you can keep your head in the clouds and your stash off the ground with this futuristic solution that keeps your material fresh and proudly on display in the most extra way scientifically possible. The HoverStash uses magnetic field technology to present your finest product in a hovering, rotating, 3" StashCube comprised of rugged yet pristine FDA-approved food grade acrylic. We may never get those hoverboards that Back to the Future II promised us, but at least our stash can live the dream!
 Your product has never looked better than when it's floating in the beams of the HoverStash's LED base lights with every detail visible through the three magnifying lenses, each producing 4 times magnification for pure scrutinizing beauty. But we know your stash is more than just a pretty face and the acrylic StashCube protects its freshness, offering 98% airtight security when the lid is closed. However, the lid snaps 1/3 open, giving curious noses a whiff of that unmistakable aroma. Whether you've got a business and want some true top notch presentation for an equally top notch product or you simply have pride in your home stash, the HoverStash offers the zenith of display models.
Magnetic field technology
Clear 3" StashCube constructed from durable FDA-approved food grade acrylic
LED lights in the base keep your StashCube illuminated
Scrutinizing 4x magnification with three magnifying lenses
Lid snaps 1/3 open for scent sampling while remaining 98% airtight when closed
Includes 1 x acrylic cube but additional cubes are available for purchase
Max weight that can levitate: 12oz.
Base dimensions: 6.25" x 1.25"