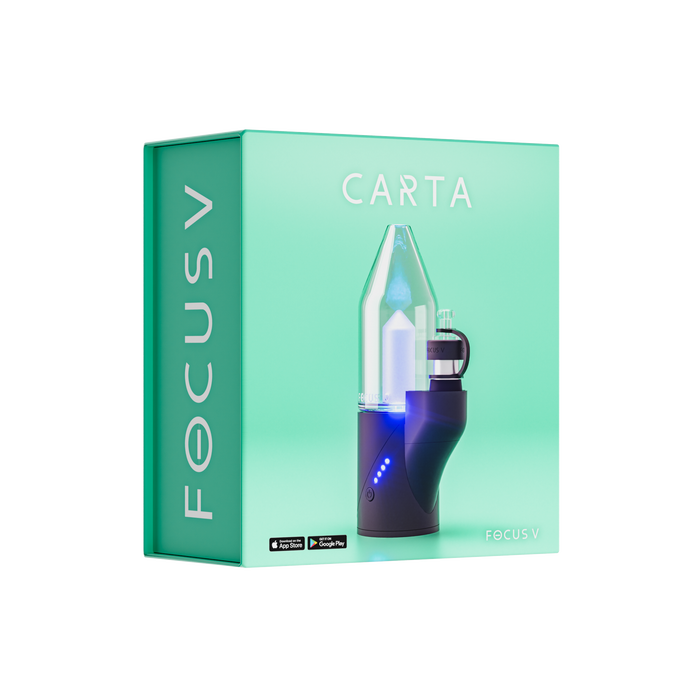 Focus V CARTA Classic Electronic Rig Kit
by Focus V
Everything You've Imagined Portable Dabbing Could Be
The first CARTA unit is back in black & better than ever. The first of more revamped OG color units to come, the Focus V CARTA Classic hits harda for less moola. Enjoy the same great Focus V function, flavor & feel with a focus on increased practicality and consumer friendliness.
Previous models of portable vape rigs still rely heavily on electrical charging, whereas the Focus V CARTA Classic can be charged through a USB like a standard portable rig or can rely on the power of two 18350 batteries.
Designed by Focus V for the CARTA, the Everlast Atomizer is a titanium bucket that holds heat longer. Ultra durable, travel with and fire up your CARTA without burning through battery power.
Download the Focus V app to keep track of your dabs. As more app details are released, you'll be the first to know!
Specs:
Portable e-rig with desktop performance
Comfortable, ergonomic design
Uses rechargeable batteries for true portability
Includes quartz and titanium atomizers
4 out-of-the-box temperature presets
Temperature control to the single degree with the Focus V Carta app
Haptic feedback
Hit counter and remote control available through the Focus V Carta app
Includes:
CARTA Classic Smart Rig
Everlast Atomizer
Borosilicate Glass Carb Cap
Two (2) Titanium Buckets
Two (2) Quartz Buckets
Two (2) 18350 Batteries
Silicone Wax Container
Carb Cap Tether
Pack of Alcohol Cleaning Wipes
Portable Carrying Case
Dab Tool
USB-C Cable
It rips.